THE 40-UP NEWS
---
| | | |
| --- | --- | --- |
| VOLUME SEVENTEEN | NOVEMBER, 2022 | NUMBER ELEVEN |
---
---
---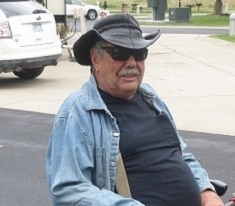 A MESSAGE FROM TRUCKR

Well now. I'm guessing that everybody arrived home safely and with no ill-effects from the Blackberry Rotgut. Thanks to all of you who expressed concerns about Gidge and I having contracted COVID-19 during or just before the gathering. I'm pleased to let you know that both she and I seem to be fully recovered with no lingering problems. Gidge and I have been testing regularly and all tests have been negative

Please join us every Tues and Sat evening at 8:00 Eastern time for safe, friendly Family chat. Scroll down to the bottom of this page for instructions on how to join us if you aren't familiar with chat protocols.

Check back often and click on the Gatherings link for some pix of the great things we saw and did at Gathering 2022 ! I'd like to thank everyone who send me pictures from the gathering. I'm working hard to get them all sorted out and put in some sort of logical order for inclusion in our Gatherings page. Also, please remember that this is YOUR web page, and that everyone is welcome to contribute, and in fact you are all encouraged to drop me a note with your comments, or even an article that you'd like to have included in our newsletter.

See ya every Tues and Sat at 8:00 Eastern time !



---



A MESSAGE FROM RUDDYDUCK

By now everyone has returned home from our get-together in Branson. I know we all had a great time seeing old friends and meeting new ones. Time went by too fast as the week was over quickly.

Donna has already completed another cruise and is looking forward to many more. She has become a regular cruiser. Now we must return to our normal daily activities and begin thinking about our next get-together in 2024. Start saving now as 2024 will be here quickly.

It was a pleasure meeting Obi and his wife for the first time. It was also wonderful seeing Wendy and Dennie again after so many years. Hopefully it will not be as long before we see them again. We always have a great time when we all get together. Chatting online is nice but it is so much more fun to be able to spend some time together in person. Looking forward to seeing everyone in chat very soon. Stay healthly and safe. See you in next month's newsletter.
---
---
---

A screen will open. There will be a box marked "choose a nickname" You may use the nick that is provided, or you may delete what appears in the box and type whatever nick you wish to use.

Below the nick box there may be an identity verification box. If there isn't a verification box, no worries, just continue. Simply click on the "Verify Me" box. This is to protect us all from spammers and other folks with bad intentions. In a few seconds, a blue check-mark will load along with the message "Verified". This shows that you aren't a bad person.

Next, just click on the "connect" button.

You will be taken directly to our chat room.

This link will work on Windows PCs, Mac, Android, iPhone, and even on many Wii machines.


---

For comments, questions, or just to pass the time of day, contact Gidge or Truckr