THE 40-UP NEWS
---
| | | |
| --- | --- | --- |
| VOLUME FOURTEEN | AUGUST, 2019 | NUMBER EIGHT |
---
REUNION 2020 WILL TAKE PLACE IN
RAPID CITY, SOUTH DAKOTA
HOME OF MOUNT RUSHMORE
The Reunion Will Begin On Sept. 22, 2020
Click
HERE
for a link to the page giving information about the
Happy Holiday Resort
as well as many of the things there are to see and do in Rapid City.
---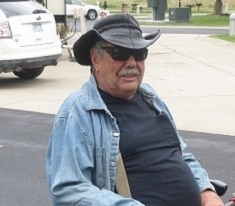 A MESSAGE FROM TRUCKR
OK, This is the moment you've been waiting for. The plans for our Gala Reunion are in place. The location has been selected. The date has been selected. The only thing remaining is for YOU to decide to join us. The Happy Holiday Resort will begin accepting reservations for the Reunion toward the end of August 2019, so I'll be sending a special announcement when they've begun to accept reservations for that time period. At the moment they're up to their eyeballs in the Sturgis Motorcycle Rally, and they need some time to get over that before they can help us to plan our event.

Meanwhile, please click

HERE

and check out the Happy Holiday Resort which will be the location of the reunion. Happy Holiday Resort rents RV spaces, basic motel rooms, motel rooms with kitchenette and cabins. The cabins certainly are a bargain at $28.80 per night for up to 4 people, but note that you must bring your own bedding or sleeping bag, and that you have to take a short walk to the restrooms.

We'll be publishing more information as the time gets nearer, but please, PLEASE start saving NOW so as soon as we get the word from Happy Holiday that they're accepting reservations for our event (should be 2 or 3 weeks) you can make your final plans to join us.

As always, reader contributions are always welcome. Please submit to me at the e-mail address appearing at the bottom of this page.
---
The East Coast is about to wrap up a 9 day over 90 degrees period. The feel like temperatures were 105-115 degrees. We are not even into August yet and the heat is miserable with high humidities. Can't wait for September and some cooler temperatures. I hope other areas of the country are having better weather than we are. Now I know why lawn tractors have headlights. It gets dark here about 9pm and I cut grass until 10pm due to the heat. I had to wait til 7pm to even start cutting. Well, so much for the terrible weather we are having here.

We are now 1 month closer to our 2020 reunion get together. We hope you have started making plans to join us for a great time. Don't be afraid to come youself or bring someone with you. Spouses, significant others, a friend, or any of your children. We do not discriminate!!!! Any past member of 40up from Talk City or any member or past member of 40-up are welcome to come join us for what could be the very last get together. We are all getting older and never know what the future will bring. We would like to see any of our past chatters and enjoy good times and great fellowship together. South Dakota is a beautiful state and many have not seen it including me. There will be lots to see, lots to eat, and plenty of time to relax and talk about old times. If you don't come, you will never know what you missed.
---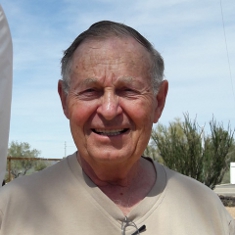 A MESSAGE FROM BRUCE



Here we are at the end of July already. Where has the time gone? When Jim publishes the monthly newsletter, I tell myself to write something to be included in the next one. Sorry Jim that it's taken so long for me to "step up to the plate".

If my wife Janet was still alive this would be our 20th year of camp hosting. Where has the time gone? Before Janet passed, she told me to keep doing what we had been doing all these years as long as I felt good about it. I still do enjoy doing this job. As most of you know by now Linda, Jim and I travel and work together. I feel finding people you enjoy being with and they being able to "put up" with you are special people. As Linda and Jim often put it "we have each others back". Working here in the State Parks that becomes important because volunteering becomes an almost full time job. Thank goodness I have someone I can ask for help when I need it, and they will step right up and help out. After my 20 years and Linda and Jim doing 11 or 12 years, who's counting, we will be taking a vacation this fall. We might even get used to not having to babysit "stupid campers" every day.

I am a relative newcomer to the chat room, but I have been made to feel accepted by everyone, thank you all. I have only met a couple of you at the yearly gatherings. I am looking forward to meeting many more of you at the reunion in September of 2020. We are already making plans for the reunion. It looks like it will be one to remember. I really hope everyone is already making their plans to come to this one. See all you there!

Bruce
---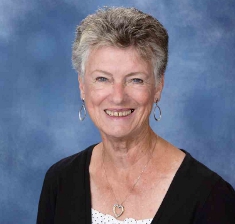 SOME THOUGHTS FROM GIDGE
I hope everyone's summer is going well. We are enjoying the good weather and being outside in the park. Stewart and I walk along the river each day. It seems that he doesn't really want to go until we get going. I've just discovered something recently and makes our walks even better. I got an app for the library here and now I can borrow audio books to listen to on my smart phone. It's a free service so can save money by not purchasing audio or kindle books. Now that saved money can go into a Reunion 2020 fund!

We'll be here in this park for another month and then head to California for 6 months. We are taking September and October off from our hosting responsibilities and staying in an RV park in Castaic, California before heading to San Simeon for our 7th year there. While we're in Castaic we plan on seeing Sunny (our newest chatter) who lives in the area and looking forward to that!

You all have a good August and save for Rapid City, SD in September 2020.

---
To join us in chat,
A screen will open. There will be a box marked "choose a nickname" You may use the nick that is provided, or you may delete what appears in the box and type whatever nick you wish to use.
Below the nick box there may be an identity verification box. If there isn't a verification box, no worries, just continue. Simply click on the "Verify Me" box. This is to protect us all from spammers and other folks with bad intentions. In a few seconds, a blue checkmark will load along with the message "Verified". This shows that you aren't a bad person.
Next, just click on the "connect" button.
You will be taken directly to our chat room.
This link will work on Windows PCs, Mac, Android, iPhone, and even on many Wii machines.
---