THE 40-UP NEWS
---
| | | |
| --- | --- | --- |
| VOLUME FIFTEEN | JANUARY, 2020 | NUMBER ONE |
---
---
REUNION 2020 WILL TAKE PLACE IN RAPID CITY, SOUTH DAKOTA
HOME OF MOUNT RUSHMORE
The Reunion Will Begin On Sept. 22, 2020
Click
HERE
for a link to the page giving information about the Happy Holiday Resort
as well as many of the things there are to see and do in Rapid City.
---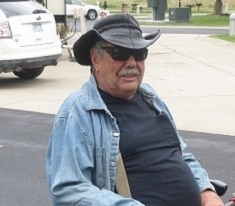 A MESSAGE FROM TRUCKR


Happy New Year !

Well, Winter has finally arrived in Central California. Last night, it got down to almost 40 degrees, and I actually had to pull the blanket up over me to sleep last night. As I write, the temperature is a bit below 70, with sunny skies overhead. Its a tough job, but somebody has to do it. We'll be leaving San Simeon 4 weeks from today and heading North to Champoeg Park, just South of Portland where we're expecting to have some snow to contend with.

Bruce, Linda and I had a great Christmas celebration. Santa brought me a new dehydrator / jerky maker. For those of you who weren't aware, I make world-class teriyaki soft jerky which goes VERY well with a gulp or two of Okie Rotgut. Be forewarned !

As the time grows nearer and nearer for our Gala reunion in South Dakota, We're trying to be certain that this will be "one for the books". I've received some great input from some of you, and I'm looking forward to hearing from many more of you with suggestions. One suggestion I received is that some of you would prefer to sit back, relax and interact with old friends. There will certainly be ample opportunity to do that. Others have expressed a desire to visit some of the attractions in the area and there will plenty of things to go see if you wish. Please click HERE to see some of the attractions this area has to offer.

The first thing we need to know is when you will be arriving If those of you who have made definite plans to attend could just drop me a note letting me know when you will be arriving, it would be a good thing.This will help us to plan our reunion party.

If anybody is planning to fly into Rapid City and needs transportation from the airport, PLEASE let me know. Our transportation committee is ready and able to pick you up and to drive you out to Happy Holidays whenever you arrive.

The only thing remaining is for YOU to decide to join us.

Click HERE and check out the Happy Holiday Resort which will be the location of the reunion. Happy Holiday Resort rents RV spaces, basic motel rooms, motel rooms with kitchenette and cabins. The cabins certainly are a bargain at $28.80 per night for 4 people, but note that you must bring your own bedding or sleeping bag, and that you have to take a short walk to the restrooms. When you call Happy Holiday, BE SURE to mention that you are a part of the 40-UP reunion. That way you will get preferential treatment.

Here are the steps you need to take to ensure that you get exactly the accommodation you want:

1) Act NOW !

2) Click on the link in the paragraph above (the one in blue that says click HERE)

3) Check out the various sorts of accommodations provided by Happy Holiday - RV, Motel, Motel with kitchenette or cabins,

4) Call Happy Holiday at (605) 342-7365 and ask for Susan. Tell her that you're part of the 40-UP reunion meeting Sept. 22, 2020, then tell her that you want to make a reservation. a check or credit card for one night's stay will be needed to make your reservation.

5) Look forward to the greatest reunion in the History Of Reunions !

It would be VERY helpful, once you've made your reservation, if you would E-Mail me or Gidge at the address links which appear at the bottom of this page giving us your tentative arrival date and the length of your stay. This will permit us to make plans for activities, food and so on. We're planning a "meet and greet" at our place, and we need to know how much Okie Rotgut I need to make.




As always, reader articles are welcome. Please submit to me at the e-mail address appearing at the bottom of this page.




---
A NOTE FROM RUDDYDUCK
2020 has arrived! I hope everyone had a nice Holiday and are ready for the new year. The year has started off fairly mild on the East Coast with no snow as of yet and no low temperatures below 20 degrees. I am sure this will change before Winter is over. I am getting all geared up and saving money for the trip to South Dakota in September. Only 9 months away and we all know how time flies now. There is still time to get in on the action in South Dakota. Meeting old friends and making new ones will be fun. New places to see and good food to eat will be a priority.

2019 passed so quickly. The days and months flew by. There were some good times and also some bad times last year. Hopefully, we can have more good times than bad times this new year. Retirement is a great thing. You can do what you want when you want. Go to bed late and get up late. Go places most anytime. Do something or do nothing around the house. Take trips and relax. If you have not reached retirement, begin checking it out and retire as soon as you can. Try it, you will love it!!!!!
---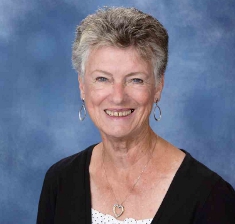 A MESSAGE FROM GIDGE


Here we are at the end of another year and entering a new decade! How can they go so fast the older you get? Seems like last month that we were celebrating Christmas and another one just passed. Not sure how so many years go by when I don't get any older LOL. Since I've been naughty rather than nice in 2019 Santa passed me by. However, Hayley, who loves me unconditionally, gave me some bluetooth ear buds. I love them! I download audio books from the library (free and now I don't have to pay for them) and I can listen while walking Hayley. Good times! We are at San Simeon State Park on the central California beach and for the most part the weather is wonderful. I never get enough of looking at the ocean watching for migrating whales, dolphins, elephant seals etc. I just drove into the park and there is a herd of Zebras at the entrance. Even after being here for our 7th year I'm still awestruck at seeing them. It's also nice at this time of the year to be able to go outdoors without a jacket. Our little Hayley loves to go for walks and she's turning out to be such a good little dog. It's true that rescued dogs never forget and are grateful to have a forever home.

Bruce, Truckr and I celebrated Christmas at our RV with a lovely dinner which included ham, mashed potatoes & gravy, cranberries, yams, champagne and a yummy creamed cheese dessert. More champagne on New Year's Eve! Yea!! Gidge loves champagne LOL

We are planning a welcome get together for the Reunion which involves food (of course). I need to know what day you are planning to arrive so we can make our plans accordingly. Please email me your arrival day to LindaVanMarter@live.com. Those of you who have not yet made your reservations do so soon.

Happy New Year to you all and hope to see you at the Reunion!
---
To join us in chat,

A screen will open. There will be a box marked "choose a nickname" You may use the nick that is provided, or you may delete what appears in the box and type whatever nick you wish to use.

Below the nick box there may be an identity verification box. If there isn't a verification box, no worries, just continue. Simply click on the "Verify Me" box. This is to protect us all from spammers and other folks with bad intentions. In a few seconds, a blue checkmark will load along with the message "Verified". This shows that you aren't a bad person.

Next, just click on the "connect" button.

You will be taken directly to our chat room.

This link will work on Windows PCs, Mac, Android, iPhone, and even on many Wii machines.
---