TWO MONTHS AND COUNTING !
We hope that you've already made plans for Gathering 2022
Please Click
THINGS TO DO IN BRANSON
To See Some Of The Great Things To See And Do In Branson
---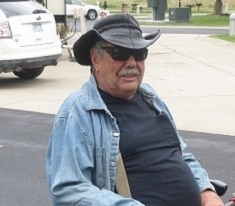 A MESSAGE FROM TRUCKR
Well, Here we are. Linda, Bruce and I have arrived safely in Springfield, Missouri. Springfield is just a short 38 miles from Branson where we will all be meeting for Gathering 2022. We've already made one trip down to Branson to make sure that they're ready for us, and trust me, They're Ready ! The three of us will be making another trip to Branson in the next few days to do more checking on things to do to suit everybody's wants, needs and wishes. Read on; Ruddyduck, Gidge and Bruce have all put up some great suggestions regarding things to see in Branson. The only thing I could possibly add to all these great ideas, is that some of us may find some of them a bit out of our budget. No Fears ! There are many, many things to do in Branson at little or no cost. We are putting together a list of everything that anybody could possibly want to visit in Branson. We're also putting together a map with directions to necessary things near the park. By that I mean grocery stores for those of you who want to cook or fix a snack in your motel room and restaurants near the park.

Trust me when I tell you that there will be something for everybody at Gathering 2022 !

Just in case anybody missed the Special Edition newsletter I sent out the middle of October giving the registration details and prices for the Gathering, I saved all the info and put up a link to it from this newsletter. If you didn't get the registration info from the Special Edition, just click HERE for a copy.
---
A MESSAGE FROM RUDDYDUCK
We are finally settling in here in Springfield, MO. I found the most important places to go right away. Walmart, Costco and Sam's Club LOL. We drove down to Branson one day to check out our resort. They were very helpful in giving us information and said they were looking forward to our arrival in September. There are places where we can get "two for one" show tickets and attraction tickets so be sure to check out the list to see what you might want to see. Go to http://branson2for1tickets.net/shows for lots of information: Shows, Attractions, Schedule (for the time we will be there) and FAQ. This will be an important place for making things more affordable. This is the Purple House site in Branson. Even though they say they are 2 for 1 tickets they will sell individual ones at half price. Do some planning ahead so that when we get together to make our final plans you will have an idea of what you want to do. We can save time at the beginning of our gathering if we all kinda know what we want to do and how we want to spend the week there. Remember that we don't all have to do everything together. Also, if you haven't already done so go to the Gathering link for our 2014 Branson trip and see how much fun we had. We're going to double it this time LOL

We've been busy since getting to Springfield, MO. The sites that the RV park put us in were brand new. They really weren't ready for use because they were still soft. Needed to be packed down more. Consequently we had a most difficult time leveling our rigs. Frustrating. Truckr and I bought two new recliners and then had to find a place to get rid of the old ones. Finally we took them to the Salvation Army. Since the new ones are a leather material I'm finding it hard to know how to keep arm rest covers on them. They keep sliding off! Anyone have any suggestions? I found a beautiful very large park here with all kinds of gardens, a lake and a butterfly house. The only free butterfly house in Missouri.

It's a great place to stroll and bike. OK guys! Do some homework and think about your plans. It will be here before you know it!
Well here we are, it's the first of July. My how time is slipping away. Before you know it September 11th will be here and the party will begin. Just hope Branson, MO. Will survive. Everyone needs to be making their final plans for the reunion.

For those that haven't figured out what's going on with Linda, Jim & I, we left AZ. On June 1st. We are staying at the Silver Bell RV park. This park has given us all quite a time trying to get level. Sites are NOT level. We almost left after we finally got into our sites. At least the park has given us some planks and cement blocks to help us get level. We will not go through this again. We will spend another 2 months here, then on September 7th will travel the 40 miles (+ or-) miles to Branson. That will give us time to setup and relax before the fun starts. We just hope the weather is good to us and hopefully there will be no wild fires yet. I guess fire season has already started in AZ. We really haven't had any rain to speak of here in Springfield. We are a little surprised at the lack of rain. Maybe this area is in a drought also, time will tell.

WE are looking forward to seeing everyone in Branson for the reunion. Everyone stay safe and well. BRANSON here we come!

---

A screen will open. There will be a box marked "choose a nickname" You may use the nick that is provided, or you may delete what appears in the box and type whatever nick you wish to use.

Below the nick box there may be an identity verification box. If there isn't a verification box, no worries, just continue. Simply click on the "Verify Me" box. This is to protect us all from spammers and other folks with bad intentions. In a few seconds, a blue check-mark will load along with the message "Verified". This shows that you aren't a bad person.

Next, just click on the "connect" button.

You will be taken directly to our chat room.

This link will work on Windows PCs, Mac, Android, iPhone, and even on many Wii machines.

---

For comments, questions, or just to pass the time of day, contact Gidge or Truckr