A NOTE FROM RUDDYDUCK
Well,our world has been turned upside down with the advance of Corona Virus-19. States are shutting down Businesses, restaurants, and cutting to groups of 10 or less. This is and will create a hardship on many of us as most of us are over 60. Hopefully the retired folks will be okay as long as they stay healthy and away from this virus. This is REAL! We must do all we can to contain it as fast as possible. Other countries are in terrible distress. It spreads rapidly. Pay attention to your surroundings and stay home as much as possible. We will overcome this with the help of everyone.

There is no way of telling how long this may last so we must do everything possible to contain this virus as soon as possible. As of right now, we are unable to know what effect, if any, there will be on our gathering in South Dakota. Pray that we have kicked this virus in the butt and be able to enjoy our travels. All states are affected and are acting accordingly to get a handle on the spread of the virus. As time goes on, a vaccine may become available with medications to control it even more.

Everyone stay healthy, hunker down, and listen to very little the Media may say. It is hard to know what to believe from them anymore. Hopefully, we will be able to have better news next month.
---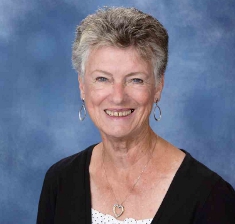 A MESSAGE FROM GIDGE


We hope everyone is staying well and no too bored by having to be quarantined. None of us are used to having to stay home and keep away from friends. I, for one, really miss my shopping days LOL. I still go but only when very necessary.

We are at Silver Falls State Park in Oregon and it's one of the most beautiful parks in the nation. 10 waterfalls with many trails. Bruce is in the campground with another host but, of course, no campers. All Oregon parks are closed. We are scheduled to leave here the end of May but have the opportunity to stay until the parks reopen. Truckr and I are at a day use area of the park behind a locked gate. We only open it when we need to leave and come back. They tried leaving the day use areas here open but there were way too many visitors – several thousand on one weekend in this park alone. SO the governor shut down the whole state. We can walk any of the trails we want and make sure no visitors are here. If they are we are to ask them to leave. Hayley and I walked to the bottom of the canyon a couple of times to the Twin Falls. It's a beautiful walk but very steep. Good exercise for both of us. We are having rain for the next several days but then we hope for a sunny April. I'm sure that will lift my mood. The rain/overcast is getting to me. Also, when the nicer weather comes Bruce, Truckr and I will be cleaning this area up. Not sure if they will open it for group camping this year or not but it will be ready if they decide to do so. All the hosts are grateful to be able to stay – some are helping in the park and some are not. Anything we decide to do is alright with management. We have a laundry room here so we don't have to go to a public one.

All of you please stay safe and well. See you in chat.

---
To join us in chat,
A screen will open. There will be a box marked "choose a nickname" You may use the nick that is provided, or you may delete what appears in the box and type whatever nick you wish to use.
Below the nick box there may be an identity verification box. If there isn't a verification box, no worries, just continue. Simply click on the "Verify Me" box. This is to protect us all from spammers and other folks with bad intentions. In a few seconds, a blue checkmark will load along with the message "Verified". This shows that you aren't a bad person.
Next, just click on the "connect" button.
You will be taken directly to our chat room.
This link will work on Windows PCs, Mac, Android, iPhone, and even on many Wii machines.
---